23 Aug. 2003
La Jetée (Chris Marker, 1968)
On the pier at Orly, a child is struck by the face of a woman who watches a man die. Later, after the Third World War has destroyed Paris, the survivors live underground at Chaillot, where technicians experiment with traveling through time.

Le Bunker de la Dernière Rafale (Marc Caro & Jean-Pierre Jeunet, 1981)
A group of soldiers in a bunker of indeterminate vintage live in wait of "the potential enemy." The discovery of a "noncomforming project" sets in motion a series of catastrophies.

Le Dernier Combat (Luc Besson, 1983)
In a destroyed Paris, an old doctor and his protege defend a crumbling clinic against the aggressions of a mastodon.

30 Aug 2003
Moebius (Gustavo Mosquera, 1996)
A train with more than 30 passengers disappears in the Buenos Aires subway. A young cartographer must find the original maps for the network in order to explain this strange occurrence.

The Taking of Pelham One Two Three (Joseph Sargent, 1974)
Four armed men take over a New York subway, threatening to kill a passenger each minute if they do not receive millions of dollars ransom.

6 Sept. 2003
Jin-Roh (Hiroyuki Okiura, 1998, scr. Mamoru Oshii)
Fuse is a member of the Panzers, a Tokyo unit created to help the police combat terrorism. In the course of a mission, he finds himself unable to kill a young rebel.

The Third Man (Carol Reed, 1949, scr. Graham Greene)
Arriving in post-war Vienna, an American writer discovers his friend is not helping alleviate suffering, but is in fact a racketeer.

13 Sept. 2003
Blood: The Last Vampire (Hiroyuki Kitakubo, 2000)
Two ferocious vampires take cover on the American military base at Yokota in 1966. Saya, a young girl, is sent on a secret mission to deal with them.

The Wisdom of Crocodiles (Leong Po-Chih, 1998)
Steven despairs he'll never find his ideal woman. Then he meets Anne, who's different than the others, but the police are on their trail.

20 Sept. 2003
Le Trou (Jacques Becker, 1960)
Four cellmates try to tunnel their way out the prison at La Santé. A fifth prisoner complicates their plan.

Le Tunnel (Roland Suso Richter, 2001)
An East German swimming star wants to escape to the west, but doesn't want to leave his sister behind. He finally flees after promising to come back for her. With his best friend, he devises a plan to tunnel back under the Wall.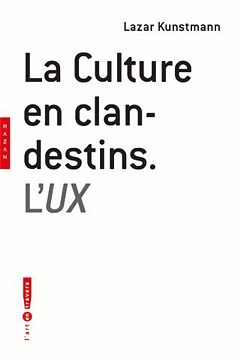 La culture en clandestins. L'UX
25 years of cultural clandestine action by Lazar Kunstmann the spokesman for l'UX.
Pantheon, user's guide.
Film by Lazar Kunstmann.